Aoibhinn
"Young people affected by cancer deserve all the support they can get... If any women out there are looking for a charity to run for, please consider doing it for CanTeen."
Aisling
"All the super troopers who completed the Flora Mini Marathon 2015! It was so moving seeing 40,000 women and a few beautifully turned out men come together in the name of charity. I ran (ok walked very fast!) for CanTeen Ireland along with Love/Hate's Aoibhinn McGinnity, who actually ran the 10 kilometres. This is a super charity that supports young people with cancer by organising weekends away and offers a chance for them to relax with those who understand what they're going through."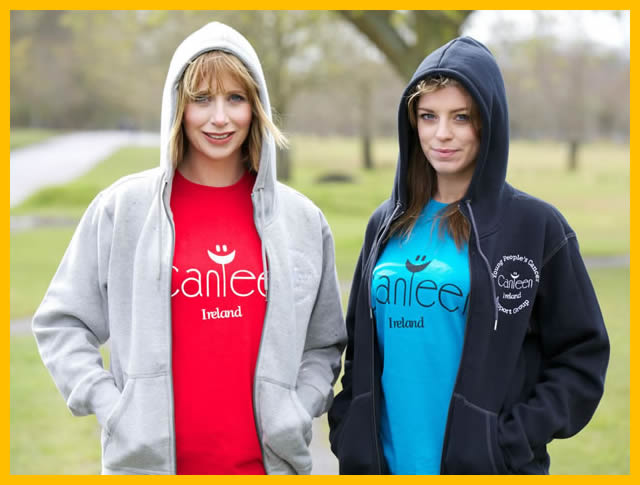 Xposé presenter Aisling O'Loughlin and Love/Hate star Aoibhinn McGinnity getting ready
to take part in the Flora Women's Mini Marathon on behalf of CanTeen.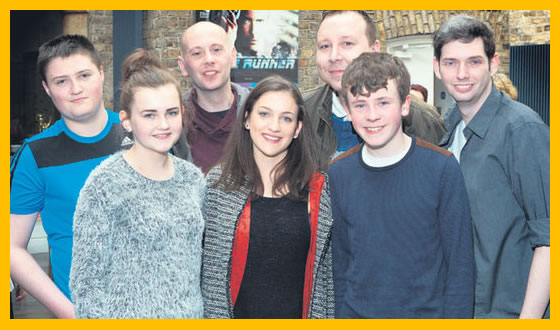 '"Redrocks" India Mullen & "Moone Boys" David Rawle | Film Screening with Helium Arts & Children at the IFI
Kyle Haugh
"So I'm sure everyone remembers the great project we did with Helium Arts last year in Tanagh and in the Irish Museum of Modern Art in Dublin last August.
Well for the PREMIERE we had a great do set up in the Irish Film Institute during March. It was great - we had our usual amazing people there i.e. CanTeen Heads aka "Cancer Heads" plus some amazing special guests - Mr David Rawle (better known to most of ye as Martin Moone), who is such a nice guy. He had a great laugh with everyone there and was so nice to travel all that way to the PREMIERE just for us.
Then we met the lovely India Mullen (aka Katie Kiely from Red Rock) who also graced us with her presence and chatted with us. They are both lovely, very "down-to-earth" who I'm sure will go far in their careers. Anyone enough rambling; the show must go on, and so it did with the incredible short film "Mythbusting with CanTeen".
The film looked at the ins and outs of living with Cancer and how most people (especially parents!) overreact to every little thing when you're sick. In the film we had many up and coming stars - me included (not being big headed or anything I was amazing lol only joking). It was a great day and I would like to thank Evelyn, CanTeen, Helium Arts, the IFI for the screening and everyone who took part in making it another great day with CanTeen.
A Huge Thanks to our special guests for coming along- India Mullen and David Rawle!"
Meeting Tommy Tiernan!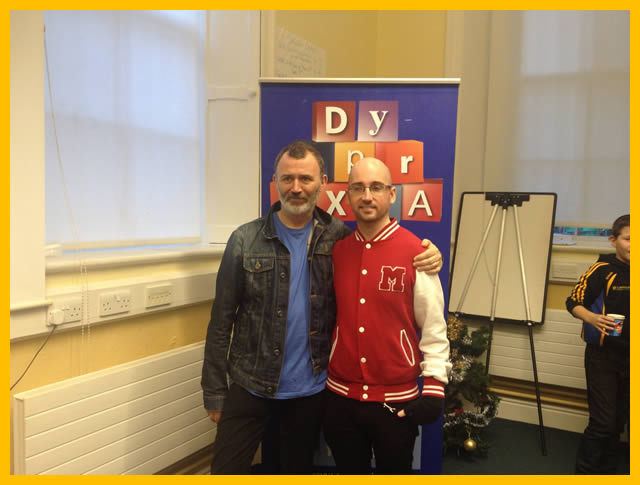 Tommy Tiernan & Paudy!

Jumping on the train with my brother Colin all excited to go and meet the man himself - Tommy Tiernan. I have always loved watching his comedy acts on TV, but never imagined I would get to meet him in person!! We were really lucky as he was calling into the Carmichael Centre to meet with members from the Dyspraxia Association and Harry very kindly invited us to come along!
Once we arrived at the Carmichael Centre we met with some members from the Dyspraxia Association. Tommy Tiernan finally arrived and went to the top of the room introducing himself, and answering any questions we had for him!! He talked a bit about his family and how his kids are quite embarrassed about him especially when he has to go to their school for parent teacher meetings!!! He told us some very funny jokes and stories about his gigs touring Ireland. After all the questions were asked, we then took photos with Tommy and had him signing our DVDs. We took one big group photo with him and CanTeen members!! I asked him personally if I could record him saying a big Happy Birthday to my friend, in which he did, though he then ended it with "From Des Bishop''!!
We all laughed at that joke!! We then gave him a card signed by the members of CanTeen to thank him for coming to meet us!! It was a great day and great experience to meet Tommy Tiernan himself (not Des Bishop)!!!
Kendra Pauloin-Valory
A Huge Thanks to Tommy Tiernan for coming into visit us and of course to Harry Conway and the Dyspraxia Association for inviting us to join them!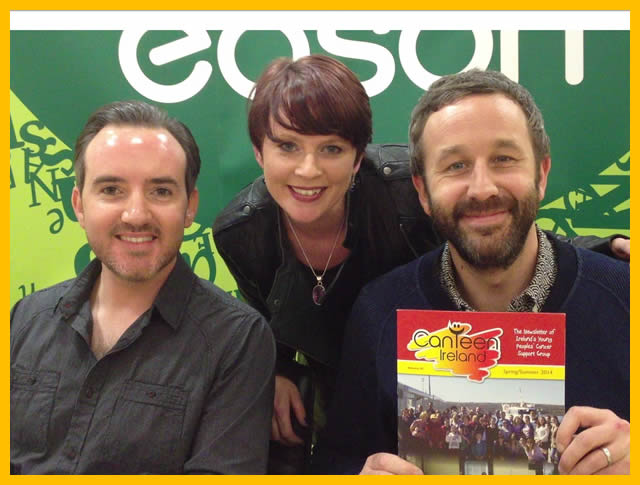 Nick Vincent Murphy, Evelyn Griffith (CanTeen Ireland) and Chris O'Dowd