Find Your Sense of Tumour – November 2013
Thomas Feeney
On the 11th of October I left for England with thirteen other CanTeen members and four leaders. We were all invited to attend the FYSOT Conference Find Your Sense of Tumour, at Centre Parcs, Nottingham. It was held by the Teenage Cancer Trust (TCT), which is an English cancer charity set up to help teenagers get through their illness.
So we met up at Dublin airport for 11 o'clock with flight leaving at 13:15 for Birmingham. Most of us decided to go to Burger King to fill the time; nothing better than a greasy burger for breakfast!
Within no time we were up in the air and back down again at Birmingham airport. We went through customs and we were on our way to Centre Parcs. It took us about 2 hours max and we arrived about 5pm. The place the conference was on is absolutely huge!! People can go and rent houses in Centerparcs, well it's really a forest. There's a supermarket, clothes shops, sweet shops, gift shops, bars, restaurants and there was also an indoor water park and bowling alley.
When we arrived we got off bus and then got a minibus to our chalets that we were staying in, in total there was 3 chalets for our group. The lads, Barry, Alan, Corey and I, and James and Peter (our leaders), were in 244. Shannean, Emma, Grainne, Jo and Lisa C and Evelyn were in 245 and Vicky, Lindsey, Lisa K, Ciara, Naomi and Kathleen (their leader) were in 246. Once we were settled in our chalets, we made our way down to the reception, which was a 10 minute walk.
When we arrived we signed up for our complimentary massages. I booked myself in for a back massage,
and we received goodie bags consisting of Body Shop products. It wasn't really my sort of beauty products but the girls seemed to really enjoy them. Well dinner was at 7, it was a buffet style layout and the food was lovely. At 8 the hosts of the conference Nigel and Sue, welcomed us to the conference and made sure we remembered that it was a "Super hero and villain" theme! They then introduced the compères, Tom, Katie, Phoebe, & Peter. We were told the rules and a TCT update was given to us by a representative of the Queen of England. Then we had our Disco which was slow at start but got better as the night went on.
I met tons of new people from all over England. It was soon time to hit the hay and get some shut eye for the long day ahead of us. From the atmosphere at the disco it seemed like it was going to be a great weekend. It was an early start for us on the Saturday as we didn't want to be late and Evelyn was kind enough to cook us a fry, so we got in early before it was all eaten.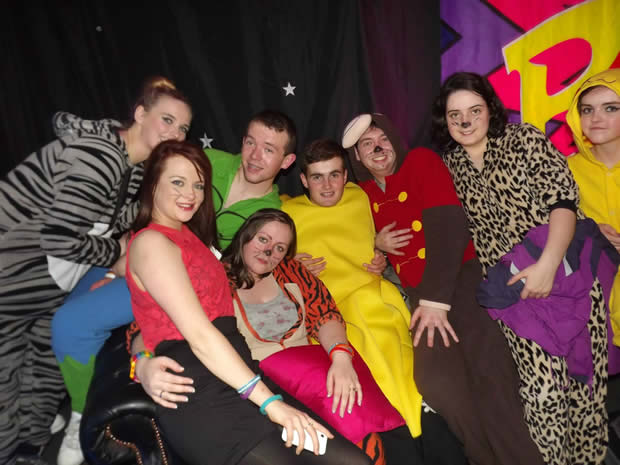 At the conference every year there is this "Big Brother Montage", hosted by Jimmy Teens, where we do a video diary entry at the end of the day where you say how the day went, how the workshops went or anything you wanted to chat about. It was great as that morning we went in everyone was greeted by some CanTeen members saying "Dia Dhuit" on the big screen, most of them thought we were speaking gibberish. Nigel and Sue then welcomed us and explained about the handset questions. This was where we had these handsets to answer questions they asked us. The talks started with a fi tness talk from two cancer survivors; Mike Gristlewaite and James Wells. It gave a great insight on how they dealt with the effects of their treatment with exercise and fi tness. Amanda Farrell gave a talk on Confidence Building which was different than what I thought it would be, but really interesting in how it was done and how it makes you think more on how you put yourself out there.
A talk from Sean Duffy was next - he is the National Clinical Director for Cancer Services and he gave a talk about his job, what role he plays that affect teenagers in England and then he answered any questions anyone had. We then had an inspirational talk from Stephen Sutton (R.I.P.), who told us about his life with cancer and his treatment. I could talk all day about what he told us. He was told he was terminal but he decided not to let that get him down he decided to live his life.
He set a lot of goals on his bucket list and decided to go about getting all these completed. One that really stuck out to me was that he went to a shopping centre in Birmingham with 100 friends and just started laughing. You've heard of a fl ash-mob but he carried out a laugh-mob. He was by far one of the most down to earth people I have ever met. Then we had a talk from Joe Twyman who was diagnosed with AML at 18, but he didn't let this stop him from fulfi lling his dream - he now races with Ecurie Ecosse team in the British GT Championship. Giles Long, who has won a gold medal in swimming for Britain at the Paralympics, told us his story of how he loved swimming as a child but didn't let his disability stop him from continuing with his dream of becoming a swimmer. He trained hard to become a Paralympics athlete.
In the afternoon I attended a talk on leukaemia.
It it was very interesting and I even learned things I never knew! We took a break for the afternoon and went to shop and relaxed. I got my massage which was a fi rst for me and was so good. I'd definitely get another one if I had the chance.
After my massage I made my way back to the chalet thinking it was 4.45, so I went in the complete opposite direction for a half an hour.
Of course I didn't realise this until I was at 445 when really 2.45 was our chalet. I never made that mistake again! After dinner that night there was a showcase on where any groups at the conference preformed a little skit or song. It was very entertaining. We then had a disco again and had great fun. When that was over we made our way back to the chalets, where we chatted for a while on how we got on that day.
Sunday was the last day of the conference, so it started a little later than usual, to let people have a lie in. Katie Ruane one of the compères, then told us her story "The journey of a 20 something year old with old man's leukaemia." It was sad to see she still had it after 7 years of treatment, but she had a great attitude towards it and is keeping positive. Ellen MacArthur, the fi rst woman to sail around the world on her own, gave us a talk on her charity that brings sick teenagers on boat rides and taught them how to sail. It's amazing how much time she takes out of her life to help these teenagers.
There was then a talk on body image by Tom Green and Lyndsay Wilson. Tom talked of how he dealt with baldness at a young age and how he dealt with his disability.
Lyndsay talked about how she moved on with her life with only one leg. We then had a fertility talk by Dr. Allan Pacey. I found this a real eye-opener as I even found out stuff that I didn't know. It was so well presented for anyone who wanted to ask their questions.
It was a brilliant talk.
Survivorship was presented by Laura Meehan and Constanze Denis.
Laura talked about statistics and Constanze talked about her experience. Both were very well done and very entertaining. Brian Lobel was the last guest speaker. He is a comedian/ cancer survivor that told us of his experience.
He was so funny and really lifted the mood at the conference… we were all in stitches laughing!!
The last talk was set up for us to ask any questions we wanted PC or not. Then there was the "Big Beat Finale" where we all got bongo sticks and did the rhythm of "We are the Champions" and sang along - it was a great end to the conference.
In the afternoon we had free time before the "heroes and villains" themed disco started. So we all went to the indoor water park which was so cool. The best was the river rapids which meant we went outside in the cold, the water was heated of course, then went down the water rapids back inside - this was such a good laugh. We went for dinner at a restaurant and the food was so nice!
We then went bowling which was great craic! We went back to the chalets and got changed into our superhero or villain outfi t for the disco! I was "The Incredible Hulk". We all decided to go in onesies because we're cool like that… we looked great. It was a great ending to an
unforgettable weekend!
A Huge Thanks to Everyone at TCT for having us!!
Hopefully I'll be able to go back again.
Thomas Feeney
---
Find Your Sense of Tumour – November 2014 | Blathnaid Byrne. Read here...