To get an even better understanding of the types of things we do, visit our YouTube Channel
---
Trip to Romania 2015

Lisa Kennedy

When we were asked to go on this trip, even though it was so close to Christmas, we jumped at the chance. It would be a once in a life time experience to go to a European Cancer Conference in ROMANIA!!!
We were so excited about going even though we didn't know what to expect. We met in Dublin airport Friday at about 12.30pm. Our flight was at 3.15 so we had just enough time to check in and grab a quick bite to eat (which was quite possibly the nicest food ever). Before we knew it we were in the air. We couldn't believe we were going to Romania!! I hate to admit this but looking at our boarding card we thought we had a 6 hour flight ahead of us. It wasn't until we landed in Bucharest and were told the time that we realised Romania is 2 hours ahead of Ireland. Who ever thought it was a good idea to send two blondes to Romania on their own – Tracey and I Lisa? Hahaha. That was the first of many blonde moments for this weekend.
When we got off the plane, we were met by a lovely woman called Delia. We got a taxi with her to meet everyone else, as we were the last to arrive. Our taxi-man was lovely... singing Romanian love songs - X-Factor "eat your heart out".
On the way to the hotel we were amazed by all the Christmas lights. There was so many and they were really beautiful. At the restaurant we were given a mug of warm wine which is a Romanian tradition (it was very sweet). Then we had soup IN bread, which we were so amazed by, followed by a lovely meal and desert. After the meal we got the bus back to our hotel. Now here is the next blonde moment... Putting my wheelchair together (keeping in mind I have one leg and only brought one foot rest) Tracey says "Lisa what side does this foot thing go on? "But it is ok, because she was just really tired! We stayed in the RIN grand hotel in Bucharest.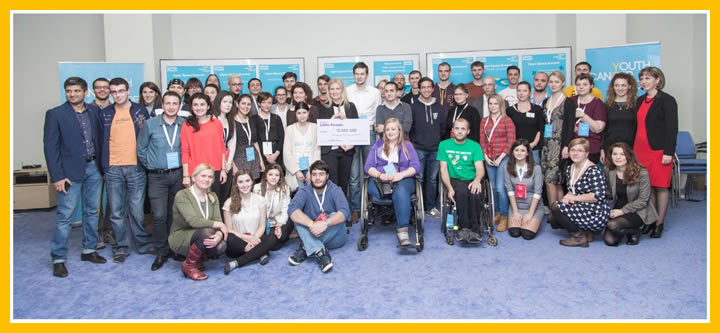 After check in we had to decide what activity we wanted to do on Sunday morning. There was Trip to Romania a choice of ice skating, shopping or a bus tour. (Have to say we were very tempted by shopping but we went for the bus tour so we would have loads of pictures for you… Evelyn). Then we went to bed because we were so tired after travelling. We were up early Saturday morning for breakfast because our meeting started at 9am. There was no agenda as we had to decide what we wanted to do and what we wanted to talk about. We all wrote down different things on a piece of paper and stuck it on the wall to see the different topics.
Some of the similar topics were put together in the same group and we had to hold our own group talk. Our talk at 11.30 was about teenage/young adult cancer wards and improving waiting times for scans and consultant appointments. We talked a lot about having negative thoughts while going through cancer and it was amazing to see that so many people have had the same thoughts and experiences.
We all agreed that something needs to be done so that every hospital has a separate ward for teenagers as the UK and the US are the only countries that do this. We had a lovely buffet lunch at 1pm and then we were free until 8pm when we had dinner. We chatted with a few people then headed down for dinner. Then we were free for the night to talk with other people but we were so tired we went to bed a little bit early.
On Sunday we were up for breakfast at 9am and then we got ready for our bus tour around the city of Bucharest. We saw different buildings and they were huge. It was very easy to tell the difference between rich and poor in the city by looking at the buildings, some were very run down then the next building would be a lovely villa. When we came back to the hotel we had a subway waiting for us. We had time to chill then before getting ready for the gala dinner. We could not wait to get all dressed up. We left about 6.45pm to the Athenee Palace Hilton Hotel.
It seemed to take forever to get there. We had a buffet meal and some lovely wine which were both very nice. Then we had the entertainment... where do we start?
The night was hosted by a famous Romanian TV presenter which we later came to know as Bob. Luckily he translated everything he was saying into English. There was a magician that made two doves appear out of nowhere, said he was going to make a pizza but a bunny appeared instead. Then there were opera singers, who were very good. Then a famous Romanian band played, which were brilliant. There were prizes for a few people and we all had Kris Kindle presents for each other. Then we had more music and dancing. We were so sad when the night was over as we were having so much fun and getting to know people more. The bus home went so quickly, we chatted and laughed the whole way back with Bob.
When we arrived at our hotel a few of us stayed in the lobby until very late chatting with Bob. We had a great laugh but then the conversation turned a little emotional. There were 15 different countries involved in this conference. We have all been through the same things. We all have the same concerns. Everyone got along and made friends, we were all brought together and connected.
Monday we got up for breakfast even though we were exhausted after our late night. Then we went back to bed for a while. When we got up we packed our bags and went down to see who was around and say goodbye. On the way to the airport it felt like we were in the Simpsons road rage game, (on the bus tour too). We noticed how crazy the roads are over there. There were three lanes of traffic, people driving here there and everywhere, it was just crazy. You would be safer to get in a taxi just to cross the road ha..ha..!
Once we got to the airport we checked our bags in and went in search of food. We found "Burger King" so were happy and it was sooo good. The flight home seemed so long and when we got home we had to wait for a bus to a hotel for the night because it was so late when we arrived back in Dublin. As you can guess we went straight to bed. We decided to get up early to get our buses home so we could get ready for Christmas. We were sad to say goodbye to each other because we bonded on this weekend (nawww). It really was an amazing experience, thank you again to the Little People of Romania and Patricia and CanCare4Living and everyone who made it possible for us to go.
Ok before I finish I may as well share my blonde moment, because if I don't Tracey will. Well, we were going to get a lift to our room in the hotel and Tracey had to point out that the lift I was heading towards was in fact a mirror... Not my brightest moment!