2017 | Upcoming events: The third installment of "Pocket Aces" at The Pavilion, Lepardstown Racecourse, in aid of CanTeen Ireland. A night NOT to be missed! Book Tickets here
---
2015 | 2016: A Huge Thanks to everyone involved for organising two amazing nights over the past two years in memory of their friends Conor and Stephen. These events raised a phenomenal combined total of over €70,000 for CanTeen Ireland. Words cannot express how grateful we truly are ♥
Origins of Casino Royale Pocket Aces
The Casino Royale Event is a Vegas themed fundraiser which has been running for two years. The first Casino Royale event took place in the Leopardstown Pavilion in 2015 and was a tremendous success. The event was organized by a group of ex Blackrock College students in memory of their close friend Conor Walsh who sadly lost his battle with cancer in April 2014. The Vegas theme is complimented by "blackjack" and "roulette" tables as well as other glamorous surprises throughout the night, including an all-inclusive paid trip to Vegas for the winner of the Casino. The event was a huge success raising a large portion of CanTeen's budget for the following year.
Due to the events success it was decided by the committee to run the event on a yearly basis. They're decision also heavily motivated by the loss of another close friend Stephen O'Gorman in November 2015. The night was appropriately renamed "Pocket Aces" commemorating these two close friends. As well as a name change the event also received a change in venue - this year going bigger and moving over to the Aviva stadium. Although the venue and name were altered the original formula which ensured its success the year before were left intact. At the start of the night the comedian Al Porter had us all in stitches laughing with his very funny comedy routine. Over 100 raffle prizes were gathered in the weeks leading up to the event, with incredible Casino prizes also headlining the bill, the Vegas trip included.
The Pocket Aces event proved to be another success raising needed fund's for CanTeen while providing upwards of 500 people with a Vegas like experience they will be unlikely to forget.
Stephen Cooke
A Huge Thanks to the Committee - Niall Kilcullen, David Smyth, Stephen Cooke, Patrick Gallagher, Ross Kavanagh, Jordi Murphy. Paul O'Shea, Paddy Costelloe, Brendan Macke, Tom Parsons and Brian Kennedy for organising a terrific night in memory of their friends and for raising a phenomenal €26,616.89 on the night for CanTeen Ireland. Thanks also to Conor's family - his parents Alison & Dermot and to Stephen's family for all their hard work and input into organising the event – without whose support the night would not have been as successful. What can we say? We are truly grateful for all your amazing support and deeply indebted to you all. Conor and Stephen are forever in our hearts!
In their own words: Written by Brian Kennedy
The first 'Conor Walsh' Casino Royale was held on the 25th of April 2015 in aid of CanTeen Ireland. In Conor's final year in college we took an elective module, where we worked with a charity, to help them boost exposure via social media and other channels. We were told that we would be assigned a charity to work with. Previous to this Conor had recovered from his first battle with cancer.
He felt strongly about CanTeen Ireland and requested that we work for them. Our lecturer obliged and very quickly we began to work with Evelyn and CanTeen. Shortly into the semester Conor had to drop out of college temporarily to refocus his attention in fighting a recurring bout of cancer.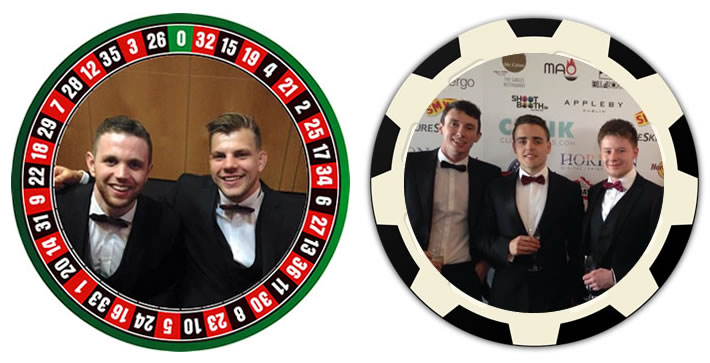 Conor never got to continue the project he put in motion. Even though he constantly offered leadership, support and guidance throughout the module it did not have the impact he desired. Sadly Conor lost his battle with cancer in April 2014. When the nine committee members met for the first time to get plans for the night moving, there was only one thing that we agreed on. The ball would we be held in aid of CanTeen Ireland to finish the job Conor started.
The night was deemed a huge success. It was great to see that everyone enjoyed their night in great spirits. I remember at one stage looking over the balcony to see fire breathers, a magician and hundreds of friends enjoying themselves playing blackjack and roulette. At this point I knew the night was a success. We are all very proud of the money that was raised and are honoured to be able to make a contribution to such a great cause in Conor's name.
Special thanks must go out again to all our sponsors who made the night possible as well as all members of the organising committee for the hard work and creativity, which made such an exceptional night. We would also like to thank anyone that donated towards the night. The ball would not have been possible without your extreme generosity.
Finally I would like to thank Conor's parents, Alison and Dermot. It was with their involvement, hard work and direction that gave the night a level of sophistication and panache that would not have been present otherwise.
Brian Kennedy
A Huge Thanks to Niall Kilcullen, David Smyth, Stephen Cooke, Patrick Gallagher, Ross Kavanagh, Jordi Murphy, Paul O'Shea, Paddy Costelloe, Brendan Macken, Tom Parsons and Brian Kennedy for organising an amazing night in memory of their friend Conor and for raising a phenomenal €35,423 on the night for CanTeen Ireland. Words cannot express how grateful we truly are - genuinely ♥ ♠ ♦ ♣
---
2017 Upcoming events: Join us at The Pavilion, Lepardstown Racecourse on Saturday, April 22 at 8 PM, for the third installment of "Pocket Aces" in aid of CanTeen Ireland - a night NOT to be missed. Book your tickets here

---
Feel like getting involved?
There are many ways you can help CanTeen Ireland. You can organise a fundraiser, donate a prize for our Winter ball, or donate your time. We are always on the lookout for volunteers..